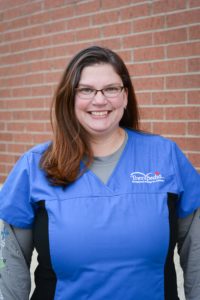 Therapedia is lucky to have Terra Brown as one of our skilled occupational therapists. As many of our families know, she is a great therapist with extensive knowledge and training in a variety of treatment approaches that cover the broad spectrum of occupational therapy. Terra also serves as the Occupational Therapy Supervisor and Director of Clinical Education at Therapedia.
Five and a half years ago, Terra moved from Hot Springs, Arkansas to join the staff of therapists at Therapedia. She joined us after gaining experience and knowledge at Shriner's Hospital in Shreveport, LA where she worked closely with hand surgeons while conducting Constraint Induced Therapy (CIT) and also participated in the hand and wheelchair clinics. Terra also owned and operated Outside the Box Therapy, LLC in Arkansas prior to moving to Texas. Terra describes Therapedia as a welcoming place with skilled therapists that are conscientious about conducting therapy in a way that is detail-oriented while addressing the needs of each child and family using an individualized approach.
Terra's house is full of "cool guys" including her handyman husband of 15 years, her 13-year-old son Paxton and her 6-year-old son Archer. As a family, they enjoy being outdoors camping or at the lake, and also enjoy traveling to visit family in different parts of the country. As a young child, Terra lived in Ventura, CA. She developed a love of water sports and could be found doing outdoor activities as much as possible. When Terra was a teenager, her family moved to southern Louisiana. Her swimming talents would eventually earn her a scholarship to the University of Louisiana at Monroe where she also earned a Bachelor's Degree in Occupational Therapy.
Terra has always had a love of reading and gaining knowledge in a variety of areas. She often listens to Ted Talks on her long drive to and from work. If Terra could be anyone from history she would choose either Leonardo Di Vinci or Olympic swimmer Janet Evans. She feels that her ability to observe situations as objectively as possible allows her to be more successful in evaluating and treating patients at Therapedia. She tries not to draw conclusions too quickly in order to fully assess and treat each child in a manner that enables her to address multiple areas of need.
If she was required to eat only one meal every day it would be boiled crawfish, boiled shrimp, side of lobster, and a fresh chocolate chip cookie for dessert. She would wash it down with a bottle of Squirt. She really is a Southerner now. Terra enjoys watching movies that are funny or that include mysteries and suspense (Indiana Jones). Two of her favorite quotes include: "You have brains in your head. You have feet in your shoes. You can steer yourself in any direction you choose." Dr. Seuss, and "I am a cube in a sea of spheres." from her son Paxton.