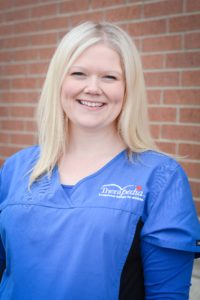 Kristen Mills is our newest full-time Occupational Therapist. She was born and raised here in the DFW area and graduated from Coppell High school. She then received her Master's in Occupational Therapy from Texas Women's University, Denton in 2009. She has worked in the pediatric home health setting and has experience with Therapeutic Listening.
Kristen married her husband and got married in 2010. They now have two beautiful daughters age 3 years and 15 months. In her spare time, she likes to shop and do photography. Her hidden talents would have to be photography and singing. We can't wait to hear her belt out a tune!
Kristen's favorite part about working at Therapedia is working with the other therapists. She likes being able to learn from and collaborate with other disciplines. Kristen's laid back and fun personality is a great addition to the Therapedia, LLC team.