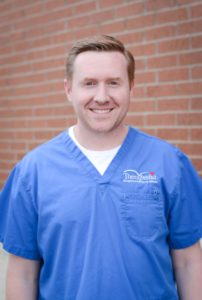 Landon Hughes, CCC-SLP is a speech therapist at Therapedia, LLC. As a pediatric speech therapist he facilitates receptive and expressive language development using a play-based approach. He specializes in feeding and oral motor therapy to improve a patient's ability to safely manipulate and swallow a variety of foods and liquids while preventing aspiration and respiratory illness. He utilizes a child centered approach incorporating aspects of Food Chaining and the Sequential Oral Sensory (SOS) approach. Landon has a special interest in augmentative and alternative communication. He is also trained to address articulation disorders, auditory processing disorder, phonological disorders, stuttering, and pragmatic difficulties.
One of Landon's favorite things about working at Therapedia is the fact that it is a small clinic that provides high quality evidence-based and sensory focused speech therapy, occupational therapy, and physical therapy. He likes that all the staff collaborate to find the best treatment approach for each patient while looking at the whole child to find what works best for them and their family.
Landon received a Bachelor of Science in psychology from Texas A&M University in 2008 and then completed post-bachelor course work at the University of Houston before starting his graduate career at University of North Texas where he received a Master of Science in Speech-Language Pathology. While in college at Texas A&M, he met his beautiful wife Kailee and they have been married for 5 exciting years. He has a rambunctious 19-month-old son that keeps them on their toes.
Landon grew up in Duncanville, TX. At age 10, he describes himself as a scrawny kid that played soccer and rode his bike everywhere. He loved all sports and anything to do with nature and animals. He was even lucky enough to be a Jr. Zookeeper at the Dallas Zoo on the weekends and on holiday breaks. Before working at Therapedia, his most interesting job was being a barista at Starbucks. He encountered a lot of interesting caffeine deprived people each day that taught him how to work with people from all walks of life.
In his spare time, he loves to work in the yard and says that he gets anxious if he goes too long without doing some sort of yard work, even in the winter. He also enjoys taking his son to any park within driving distance and watching him run and play. When asked to describe himself he said that when it comes to therapy, he is a "prepper". He doesn't typically enjoy surprises. However, like a Boy Scout, he is prepared to change activities quickly throughout a therapy session based on what a child is interested (or not interested) in that day. He tries to be as flexible as possible during a session.
His work mantra is, "Presume competence" and his personal mantra is, "Don't be afraid of a little work".