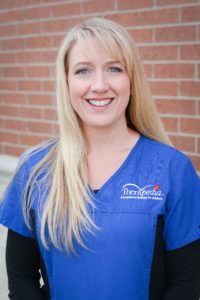 Shelley Shelton is a physical therapist at Therapedia, LLC. When asked what she likes most about her job she said, "I love the staff here, we are like a family." "We collaborate on our shared patients and treat the whole child rather than just one specific area". One of the things she enjoys most about her job is that each day is different. There are no cookie cutter exercise programs for children, so she gets to be creative in figuring out how to get a child to perform or accomplish a task in a way that they see as playing. It is very rewarding to see a child become proud of doing something they didn't think they could.
Shelley has specialized training in Interactive Metronome and the Bioness Foot Drop system. Before coming to Therapedia she worked extensively in neuro-rehab providing care to pediatric patients with brain and spinal cord injuries.
Shelley is easy going and likes to have fun with patients and co-workers. She is fun but she also expects the kids to try their best. Co-workers would probably say that Shelley has an analytical mind and they like to challenge her with unusual problems and puzzles.
Shelley was born in New Orleans, LA and then moved to Abilene, TX when she was almost 3. Growing up in Abilene, she wanted to be a Broadway performer. She attended Wylie High school, and then one year at Abilene Christian University, before transferring to Baylor University where she majored in Health Science and graduated with a Bachelor of Science in Education. Nova Southeastern University in Florida was where she received her Master of Physical Therapy. After completing PT school she moved to DFW,met and then married her husband. Shelley has 2 adult children (stepsons), a daughter-in-law and an 8 year old daughter. They have 2 dogs- a 12 year old lab and a 2 year old Markiesje spaniel/border collie mix we rescued earlier this year.
In her spare time Shelley enjoys playing guitar, singing, reading and pilates. Her hidden talent is 80's dance moves and a few of us have been lucky enough to see those moves. When asked to provide 3 words to describe herself she stated compassionate, adaptable and cheerful.
Her favorite quote is: And whatever you do or say, do it as a representative of the Lord Jesus, giving thanks through him to God the Father. Colossians 3:17 9.