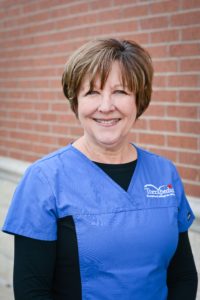 Debra Kitchens, PT is a physical therapist and owner of Therapedia, LLC. She holds a certification in neurodevelopmental treatment (NDT) and has extensive experience in the treatment of neurologic disorders, early motor development, sensory integration and torticollis. Over the years, she has learned that in order for clients to reach their maximum potential, therapy must focus on the underlying source of an issue and the child must be fully engaged in and enjoy the activities they are presented with.
Debra grew up in Wylie, Texas. She lived in a rural area where she had horses and a variety of other animals. As a child, Debra enjoyed building structures with her erector set and reading about adventures in her favorite childhood book, The Call of the Wild. She wanted to be a teacher but ultimately chose to become a Physical Therapist. She attended Texas Woman's University and started her Physical Therapy career in Houston, Texas.
Debra is married and has a blended family with 7 children, one granddaughter and a grandson due to appear in May. Raising children, she encountered many unusual and interesting situations that gave her a unique perspective that helped her better understand what parents may be feeling about their concerns for their children.
Debra enjoys many outdoor activities including hiking, camping and horseback riding. Many days she can be found in her garden tending to vegetables and improving the landscape of her yard. She is a quilter and many people are unaware that she is a talented seamstress.
When asked to describe herself in three words, she provided patient, creative and appreciative of humor. These characteristics can be observed during the skilled and engaging therapy sessions that she leads. She brings her love of laughter to the clinic where she enjoys walking the hallways and seeing all of the activity going on in the clinic. Remembering how small Therapedia was when it started and seeing how much the clinic has grown makes her smile.