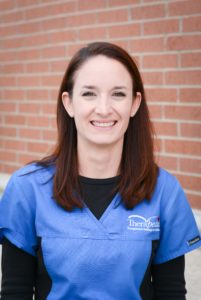 Kristen Richmond, CCC-SLP is a contract speech-language pathologist at Therapedia, LLC. She has expertise working with articulation and phonological process disorders. She also has experience treating overall speech and language disorders including receptive and expressive language delays, social-pragmatic language delays, apraxia and stuttering.
Kristen says that she absolutely LOVES working with the sweet children that come to Therapedia. Her biggest reward is watching them grow, meet goals, and seeing their confidence soar! She also loves that this is accomplished using a multi-disciplinary team approach while also collaborating with parents.
Kristen is a Texas girl at heart! She grew up in the DFW area and attended Baylor University for both undergraduate and graduate work. It was during those summers of working as a camp counselor that she met my husband, Tony, who is from Kentucky, but now works as the Family Pastor at our church, FBC Keller. They have been married almost 12 years and have 3 children, Caleb (8), Levi (6) and Nora (3).
As a child, at the age of ten, you would have found her bossing around her little brother and sister! She loved school and loved to learn, but definitely had a bossy and sassy side! During her college years, she had the opportunity to work with children grades 3rd-6th grade as a traveling camp counselor! She got to travel all over the United States to host camps and have fun with kids! It was awesome!
In her spare time, she enjoys going to the movies, shopping, meeting friends for coffee and watching her boys play baseball. She loves to travel and some of the best vacations have included going to London, traveling by car for 2 weeks to California and New York, NY.
When asked to provide 3 words that describe her character she provided, caring, friendly and organized. We see these traits in the caring way that she works with the children and in all her interactions with the Therapedia staff.