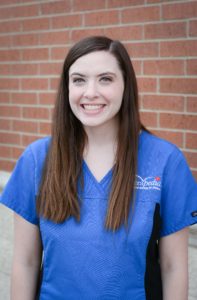 Our therapy team is growing and Therapedia, LLC is excited to announce the addition of occupational therapist, Kelsie Turman. She has a Bachelor's degree in child development and attended Texas Woman's University for occupational therapy school. While at TWU, she met her fiance and then moved to Colorado after graduation. She is now back in Texas and we are so happy to have her!
Kelsie grew up in a tiny town about 1.5 hours outside of Dallas named Quinlan. As a child she wanted to be a teacher or artist. She is now able to blend those childhood ambitions into her role as an occupational therapist. Kelsie spent a summer working with VA veterans who primarily served in Vietnam, Korea and Iraq/Afghanistan.
In her spare time, Kelsie enjoys watching comedy TV shows, hiking, napping and exploring new places to eat. Her favorite quote is "Just keep swimming" from Finding Nemo and her favorite book is Pride and Prejudice.
In the short time she has been with us, she has jumped in and performed many evaluations. Kelsie loves getting to spend her days working with kids and helping them grow. She says that she is excited to work with the very experienced and knowledgeable Therapedia team. Please join us in welcoming Kelsie!