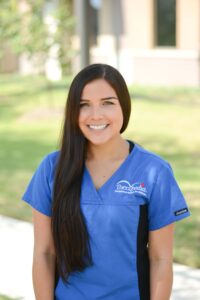 Isabelle Ormiston, MA, CCC-SLP is a speech-language pathologist at Therapedia, LLC. She has experience and specific training in the assessment and treatment of patients in the following areas:
Augmentative and Alternative Communication (AAC)
Autism Spectrum Disorders
Early Language Intervention
Stuttering and Fluency Disorders
As a speech-language pathologist, Isabelle appreciates the broad spectrum of patients she is able to work with. She enjoys learning and understanding how each patient is different and creating a plan of care that will be most beneficial to the needs of each child and their family. Isabelle feels that Therapedia, LLC provides a great work environment that facilitates collaboration between disciplines while providing the highest quality therapy services possible.
Isabelle grew up in Trophy Club, TX, and currently lives near downtown Fort Worth with her husband. In her free time, she enjoys creating items for her Etsy shop and checking out local restaurants.