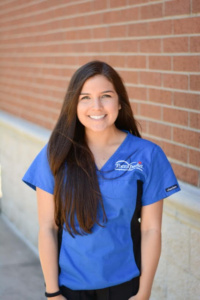 Isabelle "Belle" Bankston recently began working for Therapedia as a Clinical Fellow in Speech-Language Pathology. She grew up in Trophy Club, Texas and is familiar with this area. Belle is recently engaged to her fiancé and lives in Fort Worth. As a child, she wanted to be a doctor or a teacher. After high school, Belle went on to attend the University of Texas at Austin where she earned her Bachelor of Science in Communication Sciences and Disorders. She went on to earn her Master's Degree in Communication Sciences and Disorders from Louisiana State University in Baton Rouge.
Belle has always been active in the academic community and participated in extensive research as an undergraduate research assistant aiding in studying individuals with specific language impairments and conducting MRI's to research the brain development of children at UT Austin. Beginning in 2017, Belle was hired as a research assistant with Stanford University. Research she has contributed to while working with Stanford University consists primarily of collecting data for ongoing Autism-related studies. This is work that she continues to participate in. Belle has a passion for working with children with Autism. As part of earning her Master's Degree she successfully defended a thesis in which she studied the development of communicative functions in children with Autism Spectrum Disorders. She has previous experience as an ABA Therapist working under the direction of a BCBA and has also had training in her undergraduate career working in a clinic that was solely focused on treating patients with Autism. Belle has found that her previous research and academic experience has enabled her to develop and create evidence-based treatments for her patients.
In her free time, Belle enjoys spending time with friends, shopping at Target, cooking and exercising. Her favorite movie is "Spanglish". Her favorite book is Friend of Sinners by: Rich Wilkerson, Jr. She describes herself as determined, outgoing, and patient. Belle's favorite quote is "if you want something different, do something different". She enjoys the team approach at Therapedia that allows her to collaborate with Occupational Therapists, Physical Therapists, and other Speech Therapists to provide the best treatment for each patient. Belle loves the field of Speech-Language Pathology because of the broad scope of practice that allows her to provide intervention for children in early intervention, school-age, and adults as well.
Belle is already making a positive impact at Therapedia and we are lucky to have her as a part of our team.